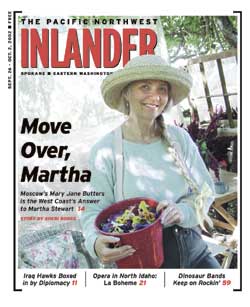 Welcome to Paradise
by Sheri Boggs
The Pacific Northwest Inlander
October 2002
We might very easily be camping. As a crackling campfire works to take the chill off the mid-September morning and strong cups of range-top coffee are passed around, there is the unshakable sense of possibility that, any moment now, we are going to take off hiking or load up the fly rods for a trip down to the river. A strong breeze ruffles a canopy of mosquito netting. Birds rustle and whir up in the pine branches.
But we're not camping. In fact, we're about eight miles from Moscow, Idaho, talking to organic farmer and magazine publisher Mary Jane Butters, and the "campsite" is actually both the setting of a recent photo shoot for her eponymous magazine and her summertime living space. The outdoor "house" — complete with two antique beds, a kitchen counter with a working sink, a propane-powered old range, a wooden table and various camp stools — is a cross between one's childhood fantasies of playing house outside and a grown-up's secret getaway. Lest the reader think the conversation tended towards teapots, rosebushes and other girly-girl topics, we must point out that on this particular morning, subjects ranged from backpacking in the Clearwater to the evils of corporate culture to the joys of answering nature's call in the great outdoors.
| | |
| --- | --- |
| | |
| | |
A scene like this, in fact, gives a clear indication of who Mary Jane Butters is. Her brand of fresh flowers-and-homespun wool domesticity, as illustrated in her magazine MaryJanesFarm and its accompanying Web site, is enlivened by an ardent love of the outdoors. She is both a smart business owner and someone who is thoroughly engaged with the world and the people around her. And even though she is committed to organic farming and environmental issues, she lives in a real world of disposable (but as biodegradable as possible) packaging and watching TV by the campfire.
When we first spoke with her last winter, the premiere issue of her magazine had come out, and even then there was talk on both sides of her becoming "the next Martha Stewart." And, it turns out, we're not the only ones who think so. In a letter pitching the story idea to The New York Times in mid-August, House & Garden Editor at large Deborah Needleman describes the magazine as "part Martha Stewart Living / part Oprah / part Organic Style / part The Nation / part Ladies Home Journal / part blog." Needleman also notes that comparisons between Butters and Stewart are inevitable.
"She is like Martha — unstoppable, talented, etc., but her instincts and motivations are honest and sort of communitarian and ecological, and she makes others feel good and capable," she writes. "I think she is someone with the potential to be huge."
Branded
Even if Mary Jane Butters does not become the next major lifestyle icon, her magazine alone still offers plenty of reasons to be impressed. One-third organic foods catalog and two-thirds magazine, MaryJanesFarm is full of folksy essays, gorgeous photography, practical homemaking projects, news clippings, sophisticated layout and more. A story on the pleasures of sewing offers four pages of "how to thread an antique treadle machine" illustrations, rendered in delicate graphite on what looks like old yellow ledger pages. Instructions for making canvas-and-wood camp stools keep company with an essay on the pleasures of fishing. Profiles of irascible retired Forest Service employees help flesh out a magazine that also offers ordering instructions for more than 60 different kinds of instant organic foods. It's so glossy, so well-photographed and so well written that it's hard to believe that the magazine comes out of a college town in the middle of the Palouse, far removed from the publishing mecca of New York.
It's also hard to believe that Butters does it more or less by herself. Although she has help with layout, graphics, photography and some of the writing, the editing and publishing responsibilities ultimately fall to her.
"We had a reporter here from The Seattle Times a few weeks ago, and he asked me, 'Who do you hire for editorial content?' and I said, 'Well, me,'" says Butters, shrugging and half-raising her hand. "And he seemed a little baffled by that. So he asked me, 'Who is your publisher?' and again, I said 'Well, I am.' His reaction was kind of funny, like he couldn't fathom how I'd be doing this on my own."
It helps that Butters, now in her late forties, has always been a quick study — and also that she subscribes to 55 different magazines. Before starting MaryJanesFarm, she gave considerable thought to both what she wanted to say and how she wanted it to look.
"What I didn't want was really clear," she laughs. "Pages that aren't numbered, the waste and impersonal nature of magazines, all the ads." Because the catalog portion of the magazine helps pay for printing and publishing costs, Butters is able to maintain a sense of continuity throughout. The combination of food catalog and lifestyle magazine leads to a sort of inescapable "how to live the Mary Jane way" feel, but it's hard to fault such a thing when her real-world cooking strategies, love of line-dried laundry and affection for news clippings are so appealing. In fact, if it sounds a little like she's branding her way of life, it's no accident.
"I read a lot of business books, and I was really interested in branding," she says. "We started out as Paradise Farms, but I came up with MaryJanesFarm as a brand and I liked how it sounded. I thought, well, I have kind of a cool story what with the forest ranger work, my backpacking line and the fact that I'm an organic farmer. So why not brand myself?"
Butters' argument makes sense, especially given the fact that two of the wealthiest women in the United States — Oprah Winfrey and Martha Stewart — essentially got that way by marketing not only their skills, but some version of themselves. But unlike Martha or Oprah, for someone who is hoping to make her name a household word, Butters doesn't exhibit any sort of prima donna attitude.
"I would love to follow in Martha's footsteps, but I'd want to do it very differently, very people-oriented," she says, adding that she thinks a lot of the current backlash against Martha has to do with the fact that Martha is a woman. "I read somewhere that the number one Halloween costume this year is Martha Stewart. People have such a personal reaction to her, and I don't think it's necessarily valid. It's not like we're seeing this kind of hatred leveled towards Kenneth Lay or some of those other Enron people."
In fact, she has no desire to displace Martha so much as she thinks it would be enormous fun simply to be that well known. "I would love to be that huge," she laughs, shaking her head. "Wouldn't that be a panic?"
Five Acres of Paradise
Before there was MaryJanesFarm, the magazine, there was of course Mary Jane's Farm, the physical entity.
"I love sharing the farm with people," Butters says, inviting her guests to graze on sweet yellow Coyote plums and sun-warmed raspberries. "More and more of our customers are beginning to visit, and soon I'll just have a constant flock of people coming."
In addition to the "outdoors house," the five-acre farm also includes an A-frame, the foundation of Butters' new house — her original 1905 house burned down in 1996 — a large greenhouse, two charming "huts," a test kitchen, a working outhouse, two big farm plots, a car that runs on vegetable oil and a walnut grove Butters calls her "outdoor bed and breakfast."
"I'm working on four new campsites in here," she says. "People can come and stay, and I'll get up early in the morning to start their fires and make biscuits."
The farm's newest addition is a chicken coop, and it is with obvious delight that Butters demonstrates the hanging chicken sign, which will be proudly displayed when the new tenants — 20 laying hens — arrive on the weekend. Her enthusiasm is similar to her fascination with garlic scapes, the curly green spires that sprout out of certain hard-neck varieties of garlic. In addition to singing their praises every Saturday at Moscow's Farmer's Market, she uses them in a mouth-wateringly fragrant pesto.
"They're wonderful. They have all the flavor of garlic but without the garlic bite," she explains. "I'm hoping they'll be the next morel mushroom or fiddlehead fern."
A 10-Year Search
Butters' love of playing around with food and her ability to nurture both come from her Utah childhood.
"If you want to know where I'm coming from, look at my family," she says. "I've been looking through old photos for the first two magazines, and I realized you can see how their interests — neighbors and relatives, gardening and food, camping, cars, hunting and fishing, and holidays — shaped mine."
Her mother participated in the Women's Relief Society in the Mormon Church while her father worked in a can factory. Although the family never had much money, Butters remembers that the family's missionary work had more to do with delivering fresh garden food than anything else.
"My father was what they call a Home Teacher, and he was supposed to go door to door, but he never talked about religion. He just brought people food."
Her love of camping comes from her mother, who would load up her family of seven and head into the wildernesses of Wyoming, Utah and Idaho. Right out of high school, Butters started working for the U.S. Forest Service and eventually landed what she calls her "dream job" as the first female station guard at the Moose Creek Ranger station, in the remote Selway-Bitterroot Wilderness Area.
While Butters loved backpacking, she didn't want to lug sacks of potatoes and coffee 25 miles from the nearest road to her lookout. Nor did she relish the standard foil-packaged hiking fare available at outdoor retailers. She experimented with an organic falafel recipe, liked it, and began concocting other backwoods recipes that were either vegan or vegetarian, organic and easy to make.
Her Forest Service work exposed her to the incredible beauty of the Idaho panhandle, and her next step was to find a farm.
"I looked for this place for 10 years," she says. "I believe that destiny has its eye on you and it helps you get wherever it is you're meant to go. But people thought I was nuts. I was living with my two kids in the Hotel Moscow so that I could run over to The Moscow Daily News when the new real estate ads came up."
She eventually found an ad describing an "old homestead with fruit trees and a beautiful old 1905 house." She called the number in the ad and said "That's mine," eventually buying the property in 1986 for $45,000.
Destiny played a significant role once Butters moved onto her new five-acre paradise. As a young single mother whose farm was bordered on three sides by a much larger farm, she regularly waved to the larger farm's owner, Nick Ogle, who later became her husband and co-collaborator. She made a name for herself as an organic farmer and expanded her line of packaged organic foods, moving into the Old Grange Hall on Main for production.
Riding the Wave
It's amazing to discover that Butters only has 18 employees, divided among the farm, the food business and the magazine. In addition to those projects, she has also founded an environmental group, the Palouse-Clearwater Environmental Institute. Still, as someone just meeting her points out, "she's more relaxed than most people with a lot less going on."
Part of that has to do with her refreshingly streamlined way of doing business, her creative funding efforts and the fact that she keeps good people by offering a decent wage.
"What I've done with my bottom line is very creative and imaginative. I'm not just here because I'm selling little packages of food. I've sold stocks, and our stockholders are really great supporters," she says. "They're my team, they cheer me on. But you don't get bogged down with the kind of democracy that wears everybody out, where you spend your whole day in meetings, or too many people are making the decisions. I have it designed so that I'm majority owner of the business. I just make the decisions. It's very streamlined that way."
It's good that Butters has her ducks in a row, so to speak, because the word is getting out. She was recently named Idaho's Progressive Businessperson of the Year — ironic, considering she was once laughed at by a group of bureaucrats when she first tried to get legislation passed for organic food manufacturers — and her magazine is sold in 46 stores nationwide, including as far away as New York.
It begs the question, is she concerned about getting so big that she might be tempted to sell out or otherwise betray her principles?
"Boy, that's going to be a challenge. I already know what I don't like about the business world. I'm really clear on that. There was a piece on the organic industry in The New York Times a month or so ago about how a lot of the packaged food companies have been bought out by General Mills," she says. "I know how that happens. You take a Cascadian Farms, or someone like me and you start a business but the cash flow never really happens because as Americans, we aren't used to paying the full cost of our food. So you get worn out. I've even had some offers from big companies. The thing you've got to do is make sure that, no matter what, you're committed. You're enjoying having employees, you're enjoying the day-to-day business of what you do. That will solve all those other problems and help with all the stuff that's hard."
The fact that Butters' voracious magazine appetite stems from a desire to know "what's going on in our culture" and that she references everything from Malcolm Gladwell's The Tipping Point to the selling out of Body Shop founder Anita Roddick, indicates that she's not likely to cave in to commercial pressures easily. She might want to be as big as Martha, but her ultimate dream is helping people make social change.
"My ideal economy is one in which you feed your local people. I wouldn't be able to make it if I was only selling organic food here in Moscow — there aren't enough people to support it here yet — but I'm hoping my foods get people interested in organic," she says. "I see places like Tolstoy Farms [outside Spokane] and other small organics as the farms of the future. They're small, they're manageable, and I think there's a bright future in wholesome, lovingly grown food. We should be seeing food as one of the single most important investments we make."
In fact, unlike nearly all the other "lifestyle" mavens, Butters is as interested in making our larger habitat as restorative and beautiful as the rooms and houses in which we live.
"There are a lot of signs around us that our culture is ill," she says. "What we each need to do is look at what we can do to fix it, your own little part. Social change is incremental. I'm in the vanguard of the next wave, but we always come in on the backs of those who came before us. Maybe I'll inspire some of the next wave."
And that would be a good thing.