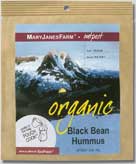 Federal organic standards prohibit the use of toxic pesticides, herbicides, hormones, antibiotics, chemical fertilizers, and genetically engineered seed stock.
Our cooking times were designed at 3,000 feet. Cooking times may increase at higher elevations.
For those with any allergy concerns, please note that all of our food products are processed in a facility that handles dairy products, nuts, peanuts, soy and wheat.

The product links on this page will take you away from MaryJane's Outpost to our main shopping area.

Let me introduce you to the best backpacking food you'll ever eat! From Outrageous Outback Oatmeal to delicious instant pastas and grains, to soups, to unique pan-fry breads and desserts, my foods will make your next trip easy and organic.

I sell my food in two different types of packaging: EcoPouch™ and Do-it-Yourself Bulk.

EcoPouch™
What's an EcoPouch? This is my term for the 7″ x 8½″ package I designed that has three unique features you'll love when you're preparing food outside. First, my package is made without a layer of aluminum foil. (Ever seen little bits of annoying aluminum foil in a fire pit, 50 miles from nowhere?) Second, the expandable bottom allows the package to stand up on its own so you can "cook" (Pouch Cook™) most of my foods right in the package. Third, if you're in an area that allows campfires, you can discard the package in a hot fire.

Choose Instant (PouchCook™), Quick Prep, or Skillet Bake:

Instant means you'll be eating real food real quick. My instant foods need only a measured amount of either cold or boiling water poured directly in my EcoPouch (Pouch Cook) package. After 5–7 minutes ...
stir and eat. These foods serve "one hungry camper." (1½ servings per EcoPouch)
Quick Prep means you'll be eating within 10–15 minutes, but you'll need a pot to cook the food in. (2 servings per EcoPouch)
Skillet Bake means you'll need to take along a small non-stick fry pan with stove. (2 servings per EcoPouch)

Do-it-Yourself Bulk
The Do-it-Yourself Bulk package is just what the name implies. It is shipped to you in large cardboard boxes lined with plastic and closed with a twist tie along with prep instructions. If you're planning a long trip or sharing food with friends, this is the way to go. I might add that my foods are so good you'll be eating them at home, too. Then, when it's time for an outdoor trip, just go to your pantry with your own packaging and get ready to go.




Your packaging is multi-use. At the beginning of the season when it rained all the time, we had the opportunity to stay in a trail crew cabin a few nights. We would always use your packaging to light a fire in the wood stove so we could warm up and dry out. On the last trip we were rendezvousing with another crew and they would leave us notes at the trail junctions, written on the packaging, telling us they were ahead of schedule. We even used it to bait with! We got to a site we were supposed to set up, and I had forgotten cardboard to tack to the tree to pour bait over. We just emptied the Organic Red Pesto Pasta into a ziplock and used the paper packaging for the bait. It saved us, and we got to savor the pasta dinner that night.

Sincerely, Carmen
"The Great Grizzly Bear Crew" — North Cascades Grizzly Bear Research Crew

On a recent backcountry trip down near Navajo Mountain, Ariz., we got a small but hot piņon fire going. We found two perfectly flat pieces of red sandstone and laid one right on the coals. We then took your Garlic Pesto Fry Bread and squeezed out the whole bag onto the ungreased hot stone. After the bread started rising, we carefully put the other flat rock on top. After 15 minutes or so, we lifted the rocks off and had these perfect golden brown loaves. Oh my! The three of us went through four bags that evening.
P.S. Your Outrageous Outback Oatmeal is GOD IN A BOWL!

Roch Horton,
Rockies Patagonia Sales
Check out the new selection of foods. I've added 11 new recipes—some new pastas, a new soup, and, best of all, rice mixes! Click on the images below to find out more about them!